The Embassy of the Czech Republic has announced a design for a new building to replace an aging facility on Tilden Street in Northwest Washington. The current embassy is a not-quite-modernist structure at the edge of Rock Creek Park near Peirce Mill. The new structure will be a postmodern landscraper in a y-shape that clings to the site, in a flattened valley. The architects are Prague-based Chalupa Architekti; I think this is a definite improvement.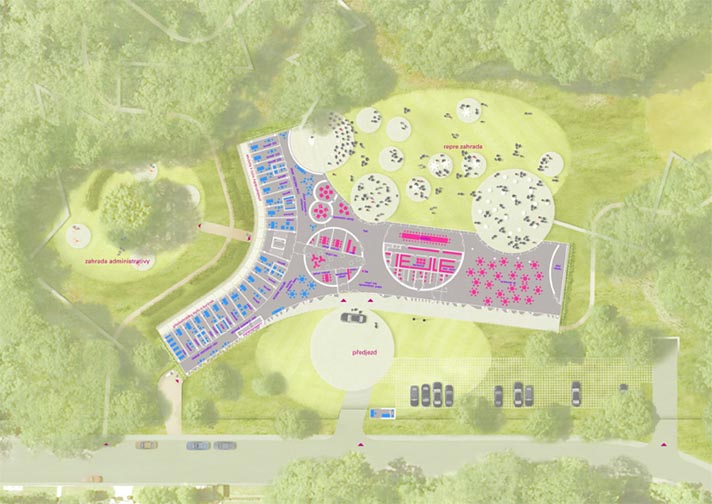 This is going to be a really great building for nighttime parties. The designers conceived of a theatrical center for élite receptions. I like the circular pods that are scattered inside and out and in between. They refresh the old Modernist idea of dissolving barriers between the interior and exterior, nature and environment, by bringing it back to the original idea of passing volumes through an envelope. The front (north) façade is a beautiful composition of frosted glass formed into a curtain. From the side of practicality, the east-facing façade of the office wing is fenestrated and shaded reasonably well for actual daylighting.
The architects fell into some contemporary tropes I dislike. I find some of the lines to be arbitrarily harsh and unanimated. The glass curtain in front ends bluntly at the roof slab. Likewise, the entrance doesn't stand out on a building that already doesn't address the street well. Admittedly, it is a diplomatic building, so security concerns will cause designers to skew fortress-like and the surrounding neighborhood is hilly and wooded, full of detached mansions like the Hillwood.
So, maybe disappearing into the environment is the best course here. The grass roof slips the building into its site. And if it's not near public transit, it is near great bicycle resources. The shady Rock Creek trail is just feet from the entrance. If the Czechs get on the same bike as the Danes and install some changing facilities (it's not clear from the published images if they have them), then it could be a pretty forward-thinking building.
What do you think?
As seen on Dezeen.